"Without music, life would be a mistake"

Friedrich Nietzsche.
No Conversation Club desta semana iremos falar sobre algo que sem percebermos faz parte do que é estar vivo: A música. Ouvindo ou produzindo, todos temos contato com ela. Venha falar conosco desta parte mágica do dia a dia. E lembre-se, para agendar sua seção, basta clicar no link no fim deste post.
Articles
7 Proven Ways Music Makes your Life Better
It´s Oficial: Music, and the People who Make it, Are Getting Worse.
Find out the number one song on the day you were born
Videos
Watch Bobby McFerrin "play" the audience
Music and math: The genius of Beethoven – Find out how Beethoven wrote many of his songs when he was deaf.
Movie
Documentary: How the Beatles Changed the World
.
Has music gotten worse?
What sort of music do you listen to and where?
Can music bring back good memories?
.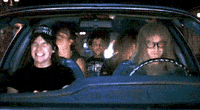 Clique aqui para agendar sua aula!